Return to Headlines
Mrs. Devine's classes had the opportunity to enter a contest by submitting a poster about Radon to the PA Dept of Environmental Protection.
Here's some info on that!
Radon Radon is a colorless, odorless and tasteless gas that can kill. The Surgeon General lists radon exposure as the second leading cause of lung cancer in the United States. This radioactive element comes from the ground, and can easily enter homes and buildings through foundation openings. The only way to detect the amount of radon present is to test.
Raise Awareness Harmful effects of elevated levels of indoor radon gas are a problem. The solution is to reduce the number of homes with elevated levels of radon. This contest is designed to raise awareness for radon testing and inform people of the danger of radon in their homes.
Pennsylvania youth ages 9-14 Children ages 9-14 are eligible.
They can be enrolled in a public, private, or home school; or through a sponsoring club, such as an art, computer, reading or science club; scouting organization; or 4-H club.
The top three winners will receive an Amazon gift card: $100 for first place student, $75 for second, and $50 for third. The first place poster will also be entered in the national poster contest.
A panel of Pennsylvania Department of Environmental Protection staff will select the top three posters across the state and notify the winners on November 22nd
Choose from the following five topics:
2. Where does radon come from?
3. How does radon get into our homes?
4. Radon can cause lung cancer.
5. Test your home for radon.
Artwork must meet the following requirements: • White Paper - size preferred is 8.5 x 11 or 11 x 17, but all submission sizes will be accepted • Must not have student's name on the front • Topic and title must be on the Artwork Submission Form • Can be created with crayon, markers, paint (watercolor, tempera, acrylic), collage, colored pencil, photographs or computer graphics. • Copyrighted characters (such as Snoopy), product logos and trademarked or brand names cannot be used. • Lettering and message should be large enough to reproduce well, with all pencil markings erased.
Radon in Pennsylvania: www.dep.pa.gov/RadonDivision
• U.S. EPA: www.epa.gov/radon
• Centers for Disease Control and Prevention: https://www.cdc.gov/nceh/radiation/brochure/profile_ra don.htm
• Radon Leaders www.radonleaders.org
• National Radon Program Services sosradon.org
Some outstanding entries: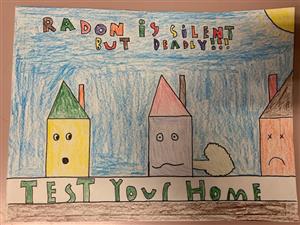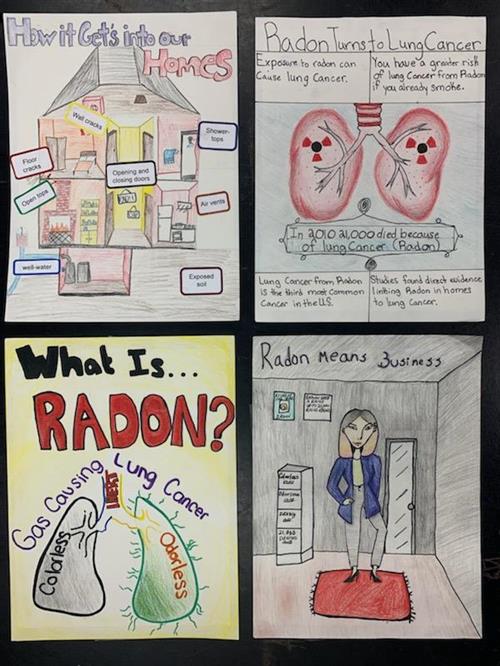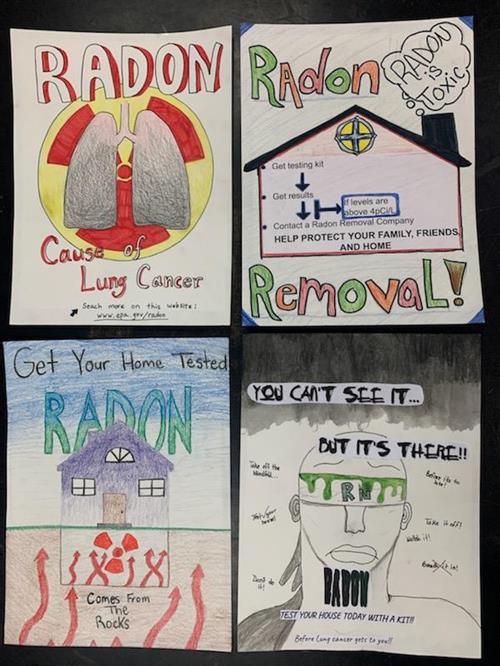 Find out more here: