Return to Headlines
Scholastic Arts & Writing
Several Dingman-Delaware Middle School students have received prestigious awards for their outstanding artwork through The Scholastic Art & Writing Awards, the 90-year-old national program that recognizes outstanding creative teenagers and offers scholarship opportunities for graduating high school seniors. The program is administered by the Alliance for Young Artists & Writers, for which the Everhart Museum is the affiliate sponsor for the northeast PA region, covering 20 high schools in the Scranton area.
Fifteen students from the Dingman-Delaware Middle School have been recognized for artistic achievement at the regional level in the Scholastic Art and Writing Competition. Scholastic Awards have 3 levels of recognition: Gold Key, Silver Key, and Honorable Mention. Lilly Cole's clay sculpture earned a Gold Key award. Lilly's sculpture will proceed to the national level of adjudication in New York City. Sarah Guyadeen, Samantha Hadley, Angelique Glamann, and Rosalia Palazzolo earned the Silver Key Award. Patricia Albro, Adara Alexander, Alleigh Baker, Ryan Decker, Samantha Hadley, Sage Henry, Yeongju Koh, Mutsuka Sumitomo, Marisa Dambach, Mirabello Demmo, and Ray Polhill recieved Honorable Mention awards.
The Everhart Gallery exhibits the Gold winning works of art on Saturday, February 9th. After receiving awards locally, the work of these students will be evaluated by an esteemed panel of jurors in New York City, alongside thousands of entries from other regional affiliate programs across the country. The Scholastic Art & Writing Awards has a long list of distinguished alumni including Andy Warhol, Robert Redford, and John Lithgow.
The Dingman-Delaware Middle School would also like to acknowledge that after 16 years of participation Mrs.Yatsonsky, one of the art teachers at Dingman-Delaware Middle School, was invited by the Everhart Museum to take part in the area judging. Mrs. Yatsonsky explained what a great opportunity it was to be a part of a 90-year tradition of fine art excellence. We are very proud of our students and staff who have made it this far and look forward to future pieces of work produced by these young aspiring artists.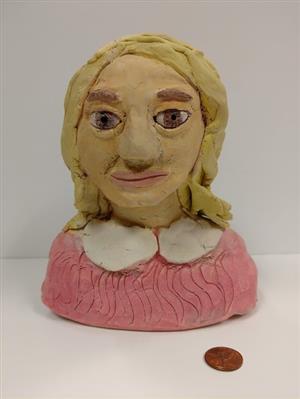 Lilly Cole's sculpture
** To see other artwork by our DDMS artists, check out the link to "Art Gallery" on the front page of the DDMS website! **