Return to Headlines
Warrior Engineering Invitational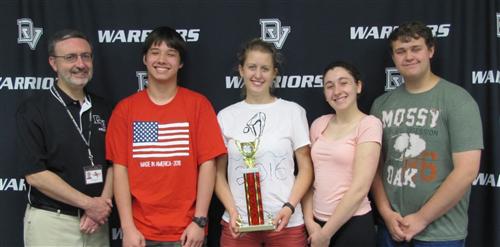 From left to right:
Mr. Bob Curtis, Engineering/Physics Teacher, Harlan Muttee, Chloe King, Emily Lepore and Cody Dailey
The 3rd Annual Warrior Engineering Invitational was held on Friday, June 3 at Delaware Valley High School. Fourteen middle and high school teams from seven schools competed in designing and constructing a water filtration system from materials such as gravel, charcoal, straw, cups and buckets.
The 1st place teams were from Delaware Valley High School and Dingman Delaware Middle School. The judges and sponsors were Gene Ruzanski from Schoehangel & Schoenagel, Jeff Rosalsky from PEEC, Jolie Defies from Air Soil Water and Ethan Mindrebo from MHE.