Return to Headlines
Delaware Valley School District's Music Education Program Receives National Recognition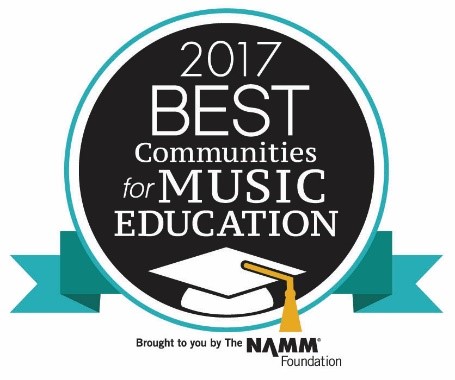 Delaware Valley School District's Music Education Program Receives National Recognition
Milford, PA - April 04, 2017 – The Delaware Valley School District has been honored with the Best Communities for Music Education designation from The NAMM Foundation for its outstanding commitment to music education. Delaware Valley School District is one of 4% of districts across the nation receiving the prestigious award in 2017.
The Best Communities Music Education designation is awarded to districts that demonstrate outstanding achievement in efforts to provide music access and education to all students. To qualify for the Best Communities designation, Delaware Valley School District answered detailed questions about funding, graduation requirements, music class participation, instruction time, facilities, support for the music program, and community music-making programs. Responses were verified with school officials and reviewed by The Music Research Institute at the University of Kansas.
Dr. John Bell, Superintendent of the Delaware Valley School District, said "being recognized for the fourth year in a row is fabulous! Our music teachers and students work so hard to excel and this award validates all of their efforts. We want to educate the whole child and help them find their passions in life. School is about preparation for life and not just good test scores."
Music teachers and students at Delaware Valley are passionate about music education. One kindergarten student from Shohola Elementary School expressed this passion by stating, "When I sing, I think that I am on top of the whole wide universe!" A second grader from the same school said, "Music is like breakfast. If you don't have it, you're definitely in for a rotten day." Children across the district benefit from various music classes and numerous ensembles, such as chorus, concert band, jazz band, marching band, and orchestra. Additionally, Delaware Valley students have participated in competitive music festivals at the district, regional, state, and national levels.
This award recognizes that the Delaware Valley School District is leading the way with music learning opportunities as outlined in the new federal education legislation, the Every Student Succeeds Act (ESSA). The legislation, signed into law in December 2015, and awaiting state implementation designates music and the arts as important elements of well-rounded education for all children.
About The NAMM Foundation
The NAMM Foundation is a nonprofit supported in part by The National Association of Music Merchants and its approximately 10,300 members around the world. Its mission is to advance active participation in music making across the lifespan by supporting scientific research, philanthropic giving, and public service programs. For more information about The NAMM Foundation, please visit www.nammfoundation.org.